Repair and maintenance 
Our
service for you
We offer repair and maintenance of laser micrometers from various manufacturers (including NDC Technologies/BETA Lasermike etc.). Of course, we also undertake the repair of older models for which it is sometimes difficult to find a partner for service.
Timetable
for repair and maintenance
First step is the linearization. An optical lattic is brought into the beam. The goodness of linearization is dependend on the precision of using this optical lattice. We are using the best available optical lattices for this purpose, which guarntees the best possible linearization.
New
software

for calibration

We use customized and specialized software for the calibration step. We are able to recognize faulty linearization
immediately, and are therefore able to re-linearize on the spot, if needed. Grpahical analysis will yield and estimation of goodness for the system. Step by step the system 'learns' to interpret the electronic signal. The software will compensate for eventual errors, to obtain the best possible measurments.
For integrated circuits we use a TTL-logic . The low gate is 0 – 0,4 V , and high 2,4 – 5 V. After running the software, a finer calibration is done manually.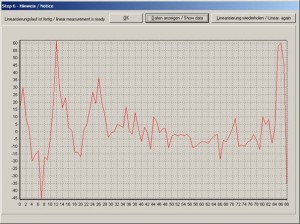 Our
spare parts

for your lasers:

Often still functioning laser measurement systems are still fully functional, if repaired and maintained by experts. Even if spare parts are not available on the market, we as your service provider still have them in store!

Call us if you are unsure about the current state of your laser measurement systems!